I spotted this recipe on both Facebook and Pinterest.  I rarely see a recipe I must make immediately, but this one I did.  It doesn't hurt I had all of the ingredients on hand, and I love it is touted as "Clean Eating." Yeah, maybe to some, but I think limiting your portions to one or two a day is a very good idea for the waistline.  And I definitely feel, anything you make yourself is better than something you had to peel the plastic off of.
There are many versions of this on Pinterest, so I'm going to give you my version.  I switched up a couple of the key ingredients, and  I split the oats with puffed rice.  I use 1/2 C maple syrup and half honey.  And since anything not considered dark chocolate is too sugary, I replaced the mini-chocolate chips with Ghirardelli Bittersweet chips.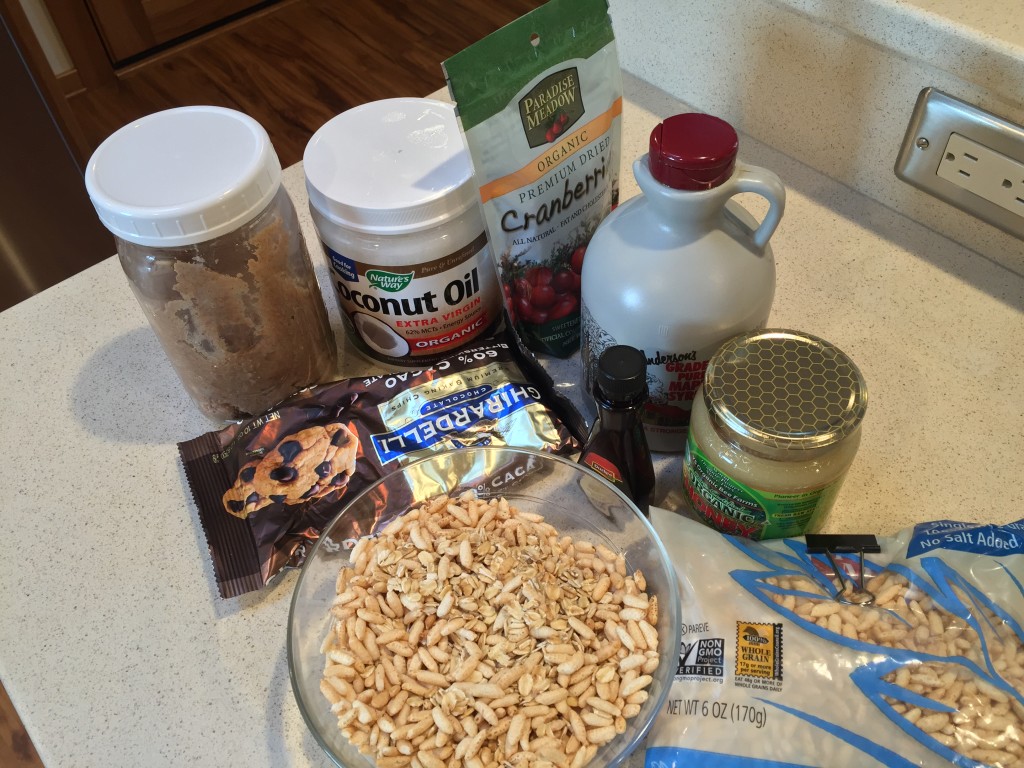 Here are all of the ingredients: Peanut butter(I make my own), coconut oil, cranberries, maple syrup, honey, puffed rice, oats, vanilla and chocolate.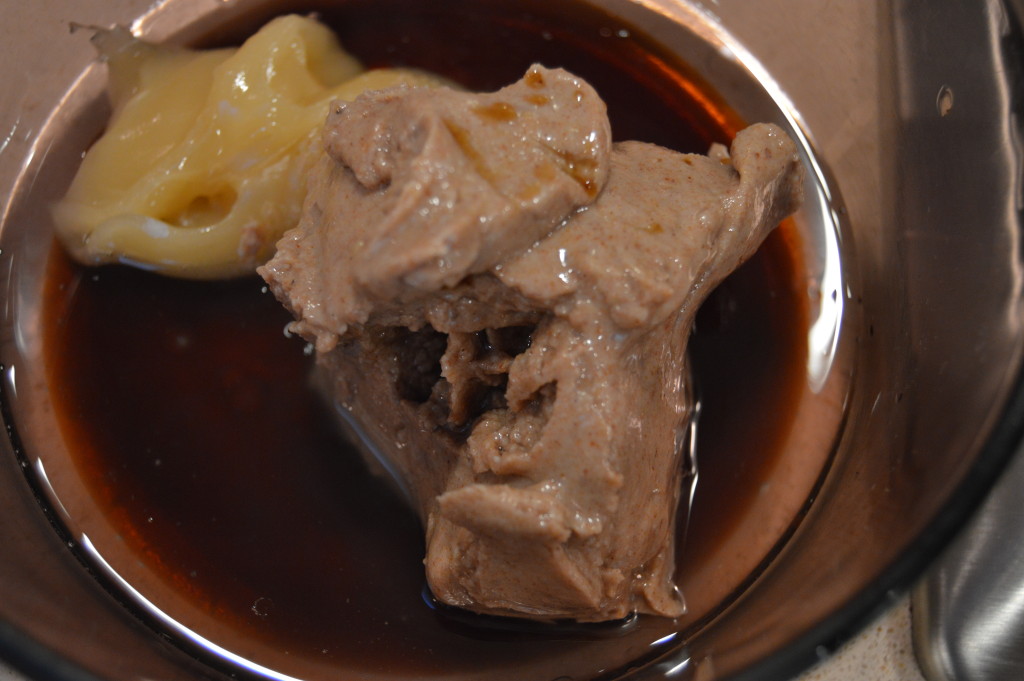 Place the honey, peanut butter, maple syrup, and coconut oil into a microwave safe bowl.  Microwave for a minute or two but watch carefully. Remove from microwave and stir vigorously.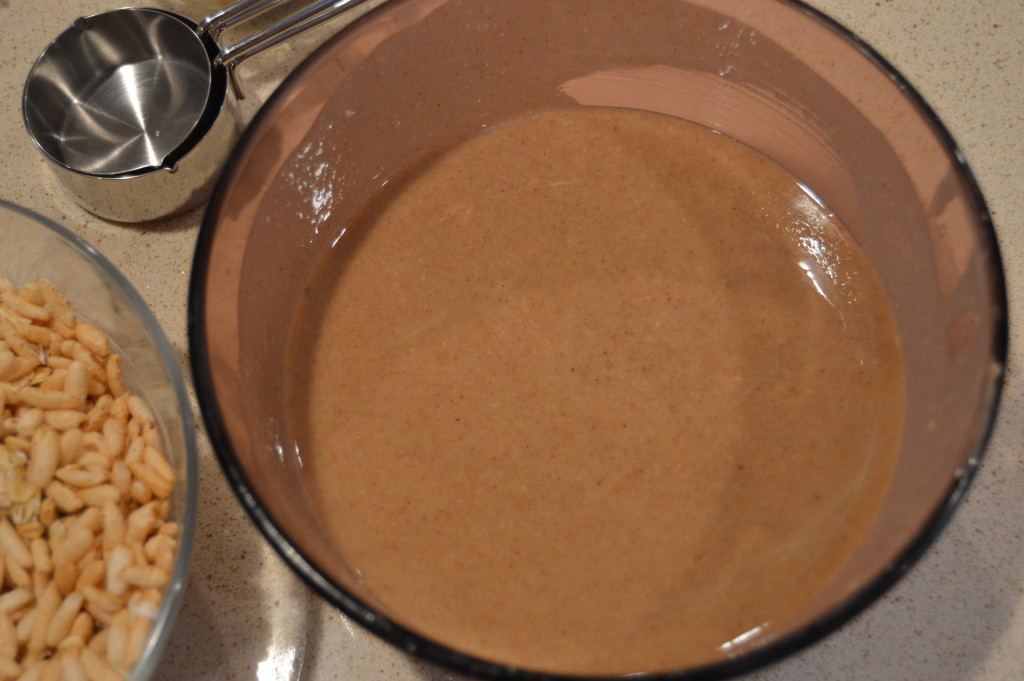 This is post-microwave and a vigorous stir.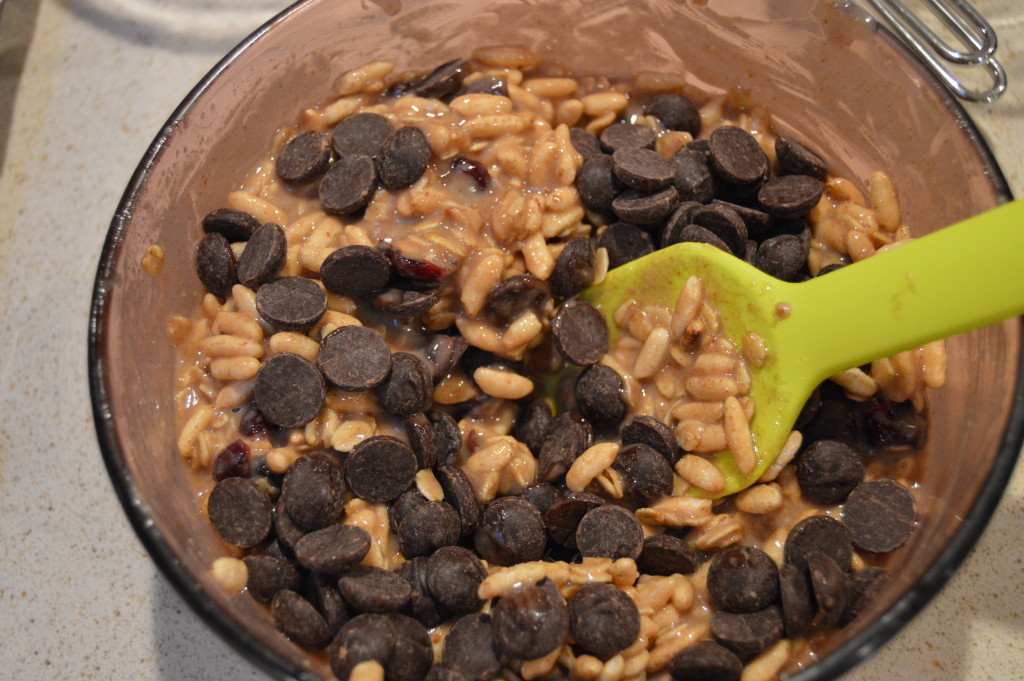 Stir in the oats, puffed rice, cranberries, chocolate and vanilla. The chips should melt from the heat of the peanut butter mixture.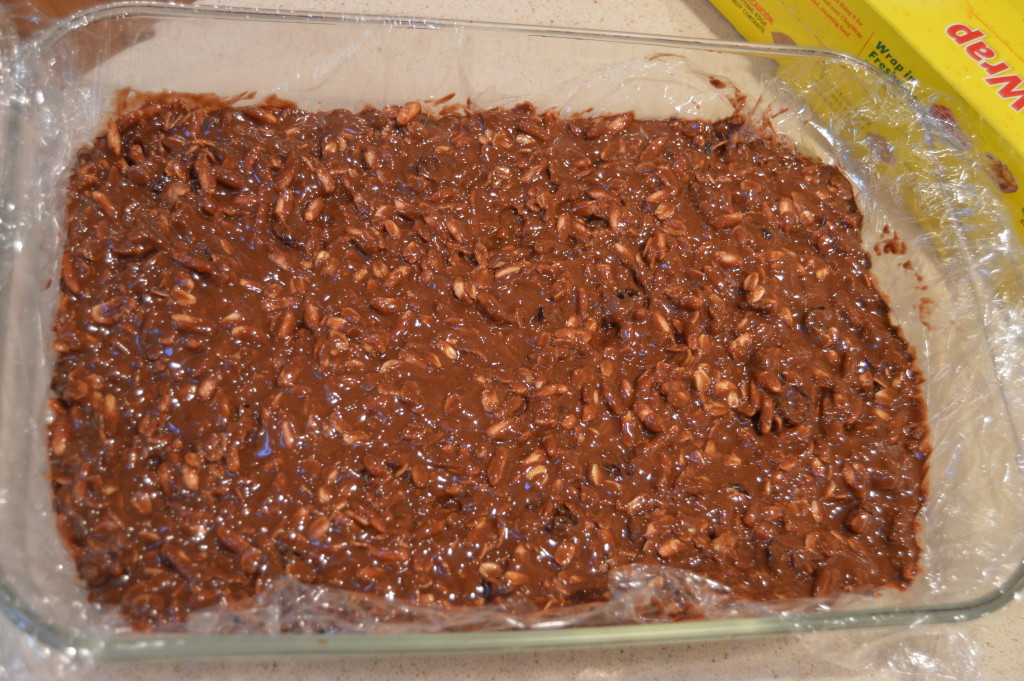 You can either use a 13×9 or 8×8 cake pan; the 8×8 will produce Chunky like bars and the 13×9 will be thinner. Lay plastic wrap in the dish, so you can easily pull them out to cut.  Evenly distribute the chocolate-oat mixture.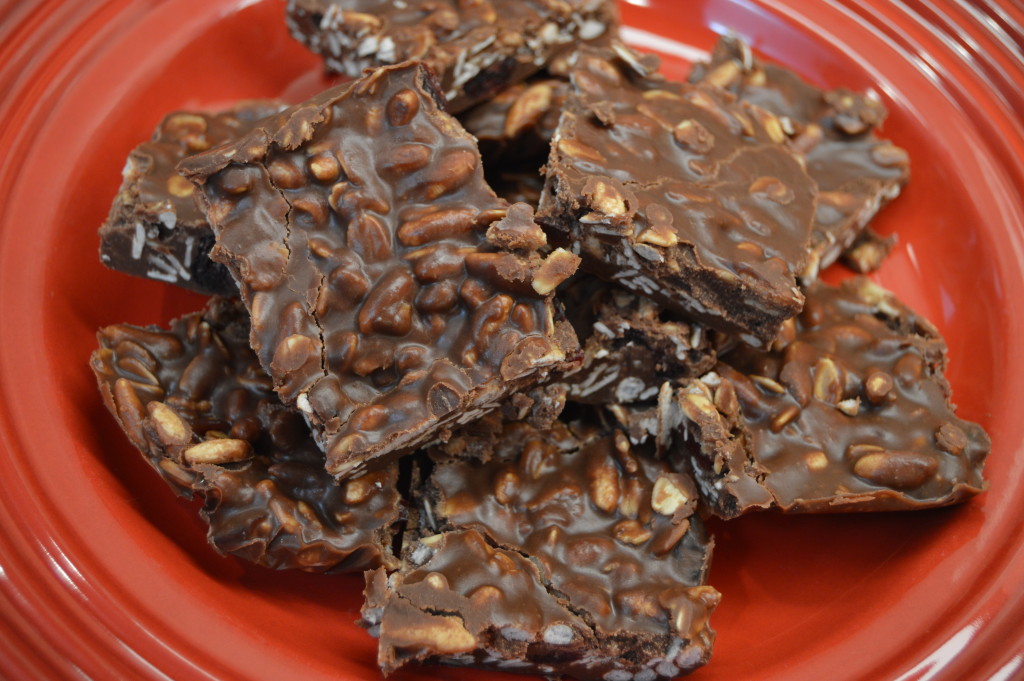 No Bake Peanut Butter and Oat Bars
Ingredients
1 C Peanut Butter
1/4 C Maple Syrup
1/4 C Honey
1/2 C Coconut Oil
1 C Old-Fashioned Oats
1 C Puffed Rice
1/2 C Dried Cranberries or Cherries
1 1/4 C Dark Chocolate Chips
1 Tsp Vanilla Extract
Directions
Combine the peanut butter, maple syrup,  honey and coconut oil into a microwave safe bowl. Microwave on high for 1-2 minutes; monitoring very closely.  Stir chunks out until smooth consistency.
Add the oats, puffed rice, cranberries, chocolate chips and vanilla to the peanut butter mixture and stir until combined.
Spread evenly into a 13×9 or 8×8 pan lined with plastic wrap.
Refrigerate or freeze until hardened. Cut into squares and enjoy this somewhat healthy snack when that sweet tooth just won't leave you alone.