Now that roasting pans have been put back into storage and the pie plates nestled where light rarely hits, it's time to review what we could have done to the make the process less hectic and a more "thankful" affair.  Every year I strive to not over-cook the only dish I will not sample, produce  potatoes that are thoroughly cooked, and supply a  veggie dish worthy of coming out of a vegetarian's kitchen.  Combined with rolls and pies I make myself, and a more newer tradition, making my own bread cubes for stuffing, is there any wonder I am a stressed out cook every Turkey Day?  Ease up, you say? Well, that's just not how I'm wired.  One year, I will find a way to do it all and do it all well.  And it's going to be next year.
-One trick I found this year was to prepare the pumpkin pie crusts ahead of time.  I rolled out the crusts, pre-baked them and then froze the pie dish and in a jumbo sized Hefty bag.  That really alleviated a lot of mess stress closer to T-Day.
-Of course I made the rolls ahead of time and froze them.  It was a new recipe and they  were a huge success(recipe link below).  I also made polenta corn-bread the night before T-day.
http://www.mycatholickitchen.com/2014/11/cast-iron-parker-rolls-for-breadbakers.html
-I didn't do it this year, but I am going to investigate doing mashed potatoes in the slow cooker.  I made scalloped potatoes this year.
-This last one is not new for me but one I think you will want to know more about.  I do the stuffing in the slow cooker.  It goes on first thing T-Day morning, and it makes the house smell like…well…Thanksgiving.
This recipe is the halved version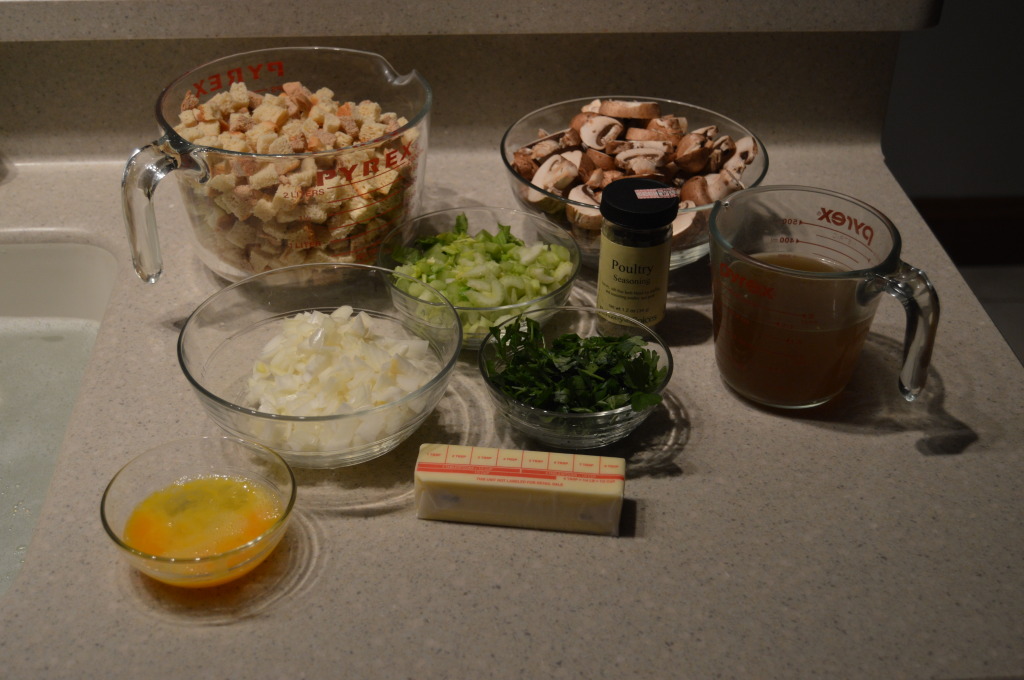 Bread cubes, sliced mushrooms, veggie broth, chopped parsley, butter, 1 egg,  onions, celery and poultry spice(the other spices not pictured).
The sauteed veggies and then added to the crock pot.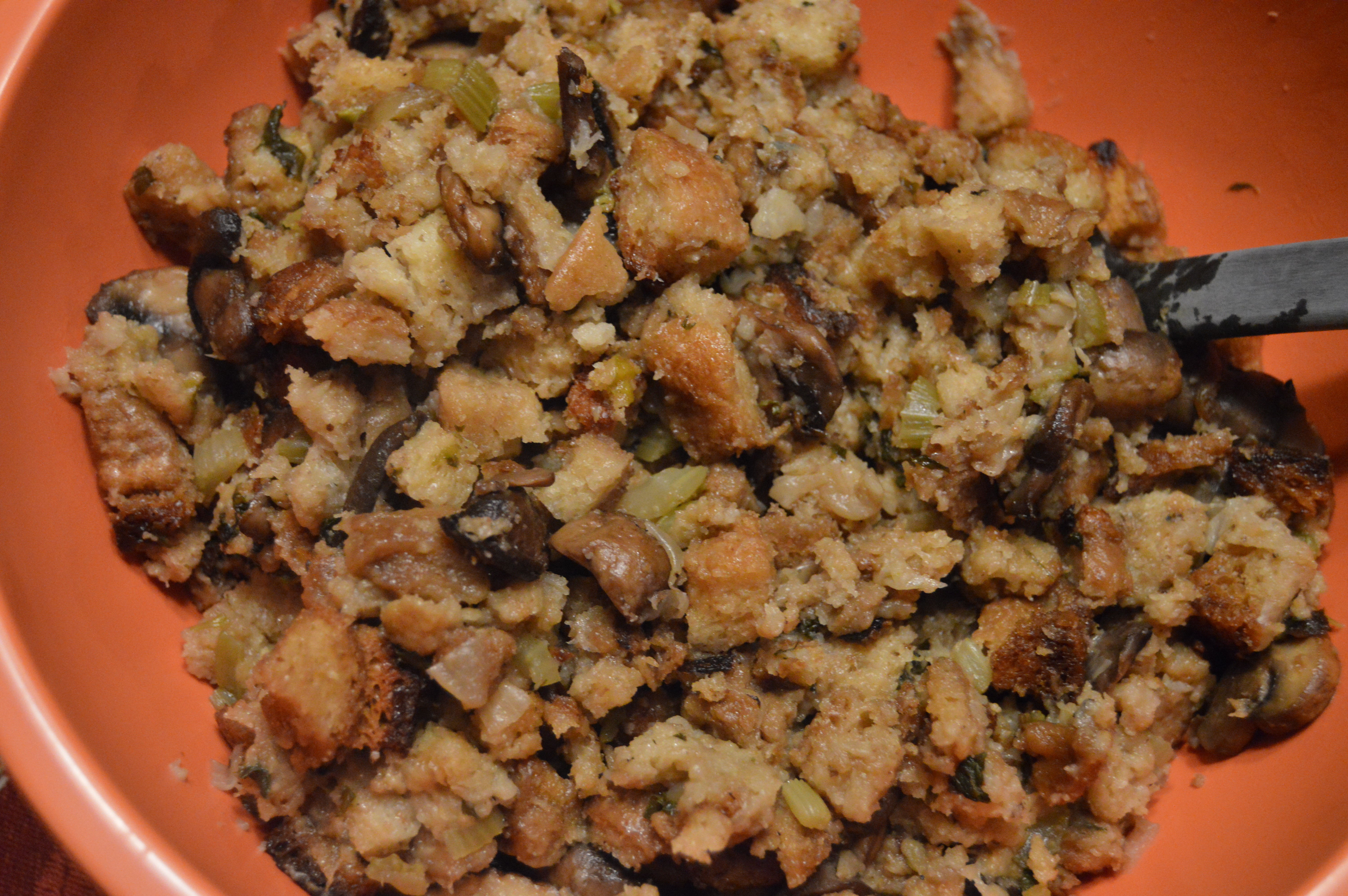 The stuffing
Crock Pot Stuffing
I pulled this off the internet in 1996 or 1997.  I still have the original print-out with doodles from my youngest on the back of it.  I usually halve this recipe because it comfortably feeds 6-7 folks.
Ingredients
-1 cup unsalted butter
-2 cups chopped onion
-2 cups chopped celery
-1/4 cup parsley spring(I chop up a handful)
-1 12 oz package of mushrooms, sliced
-12-13 cups slightly dry bread crumbs*
-1 teaspoon poultry seasoning
-1 1/2 teaspoon salt
-1 1/2 teaspoon sage
-1 teaspoon thyme
-1/2 teaspoon black pepper
-1/2 teaspoon marjoram
-3 1/2 to 4 1/2 Cups broth(I use veggie)
-2 eggs, well beaten
Directions
1. Melt butter in a skillet. Saute onion, celery, mushrooms, and parsley on medium high heat for 5-7 minutes.
2. Pour sauteed vegetables over bread cubes in a very large bowl. Add seasonings and toss together. Pour in enough broth to moisten., add beaten eggs and mix together well.
3. Pack stuffing lightly into crock pot and cook on high for 45 minutes. Reduce to low and cook for 4 to 8 hours more.
*I make my own bread cubes by making a a loaf of white and wheat, and if they are fresh loaves, slice them and leave the slices to sit overnight.  I then cubed them and put them in the dehydrator for 3-4 hours to get them good and crispy. Painstaking? You bet but it really makes a difference in the stuffing.  You can also do this weeks before the holiday and freeze the slices or cubes.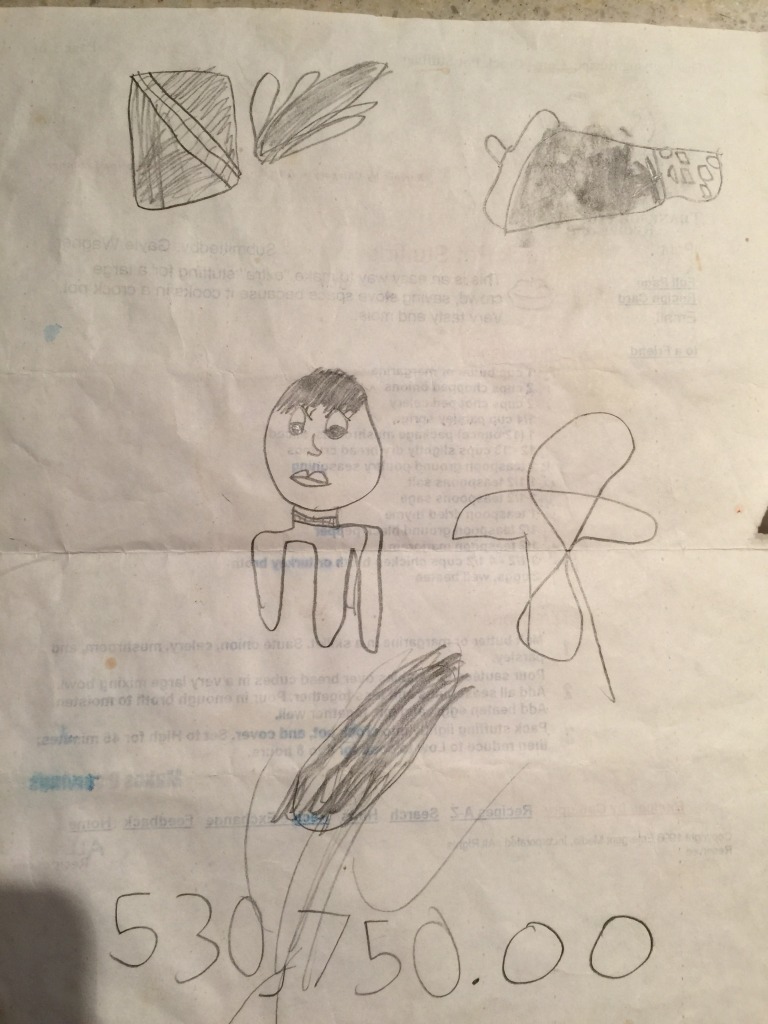 Here's the doodle.  Seeing she's turning 25 in a few weeks,  this stuffing has been served at Thanksgiving for many years.  It always turns out and is always a big hit.