This is a continuation of what I did with forty pounds of fresh, organic apples  hubby and I picked a few weeks ago.  He requested apple butter to be one of the results of the apple trip, and I couldn't refuse.  But honestly, I never knew this was a "thing" until I met my hubby.  I am guessing his Missouri -born mom made it a time or two when he was a boy.  The stuff is good, but I look at it and wonder what to do with it.  The hubby uses it like a jam, but I see me pouring this over yogurt, ice cream or a bundt cake.  It has a lot of spice/flavor so whatever I add it to better be boring. Once you prep the apples, this recipe definitely goes in the "easy" category.  And another bonus is how good this makes the house smell for 10 hours.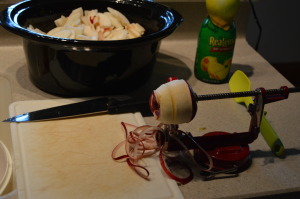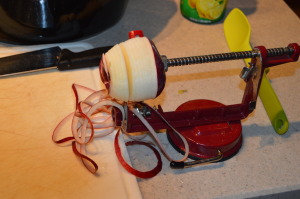 Here I am slicing, coring and peeling. I quarter the slices and place them and a dash of lemon juice in the slow cooker.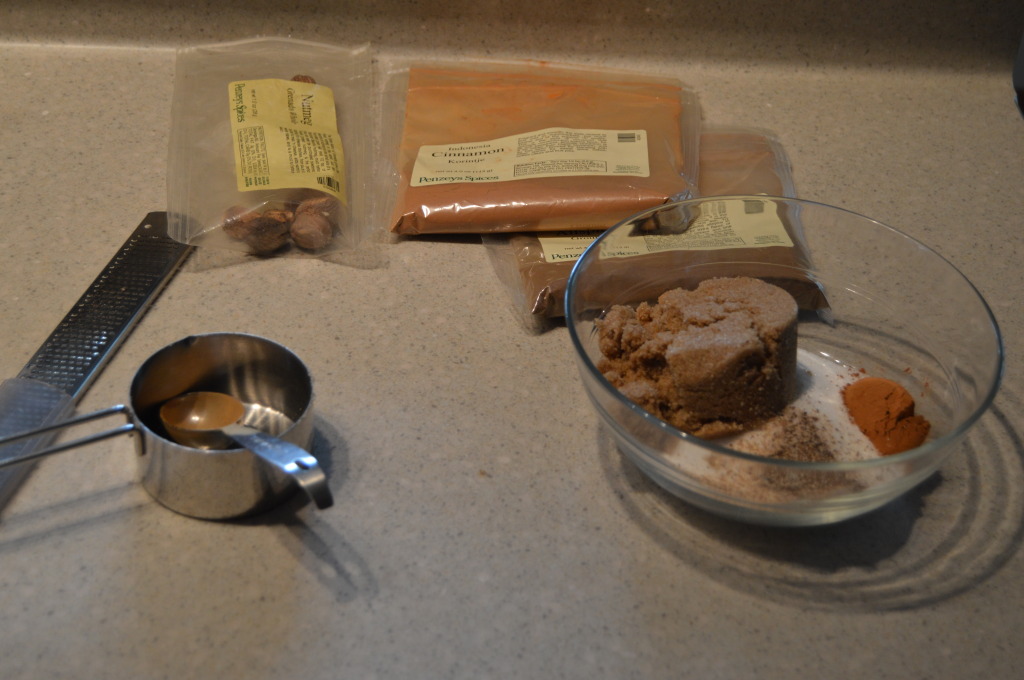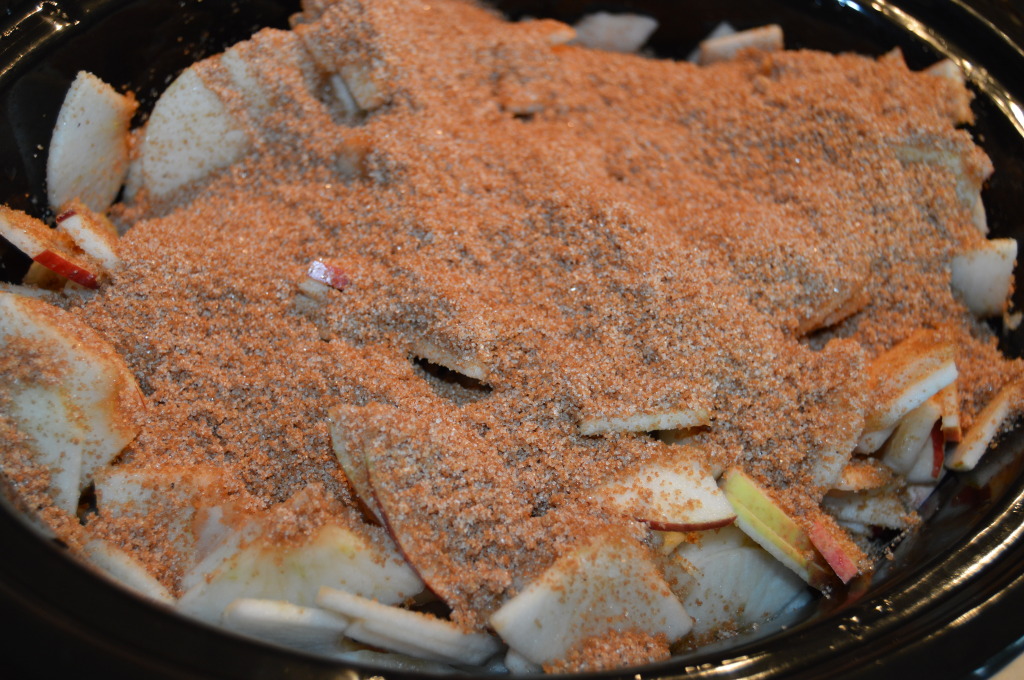 Nutmeg, cinnamon, all spice(I didn't have cloves), brown sugar and granulated sugar.  I mixed these together and poured over the sliced apples in the crock-pot.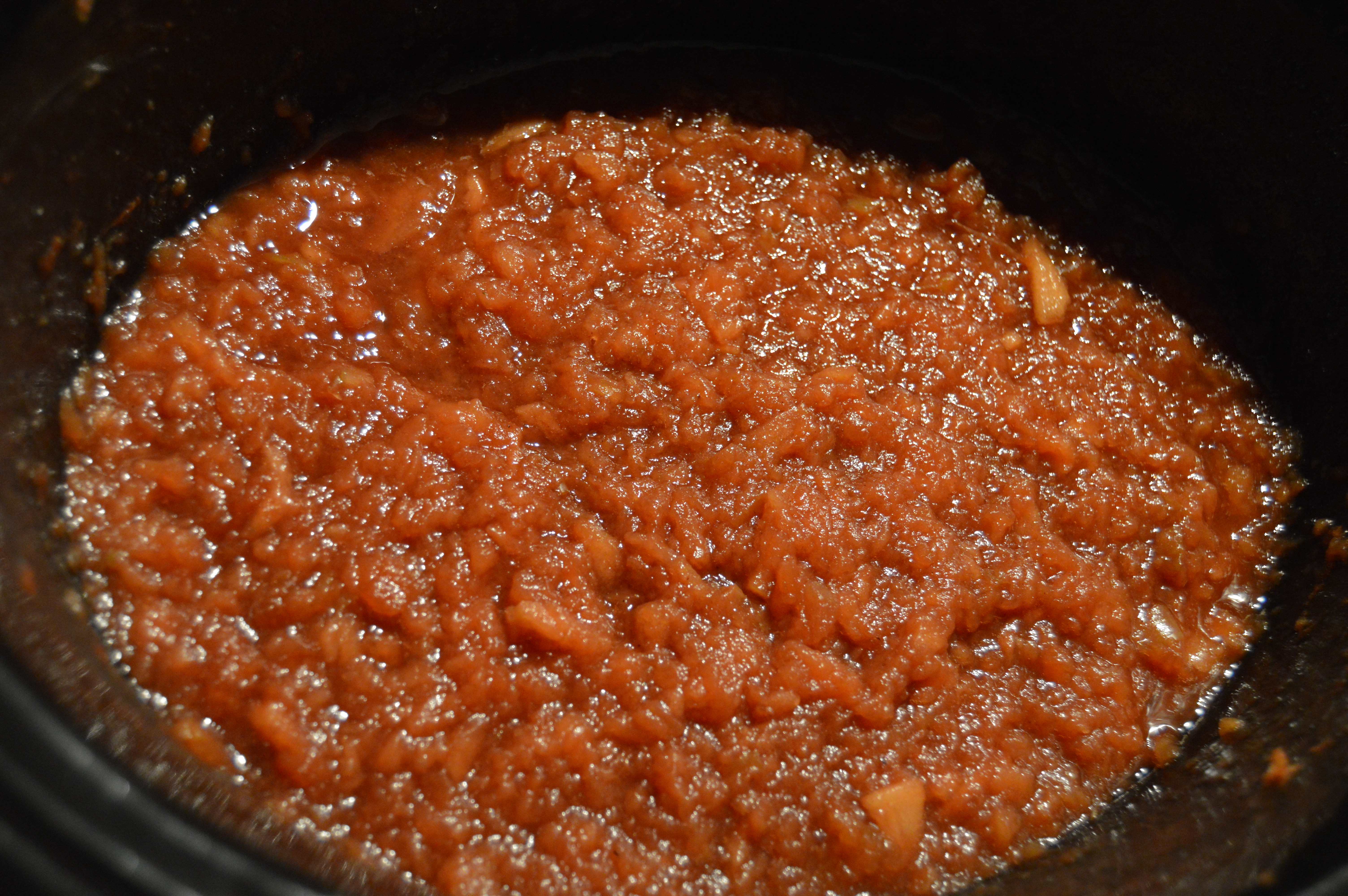 This is eight hours later: Spicy Applesauce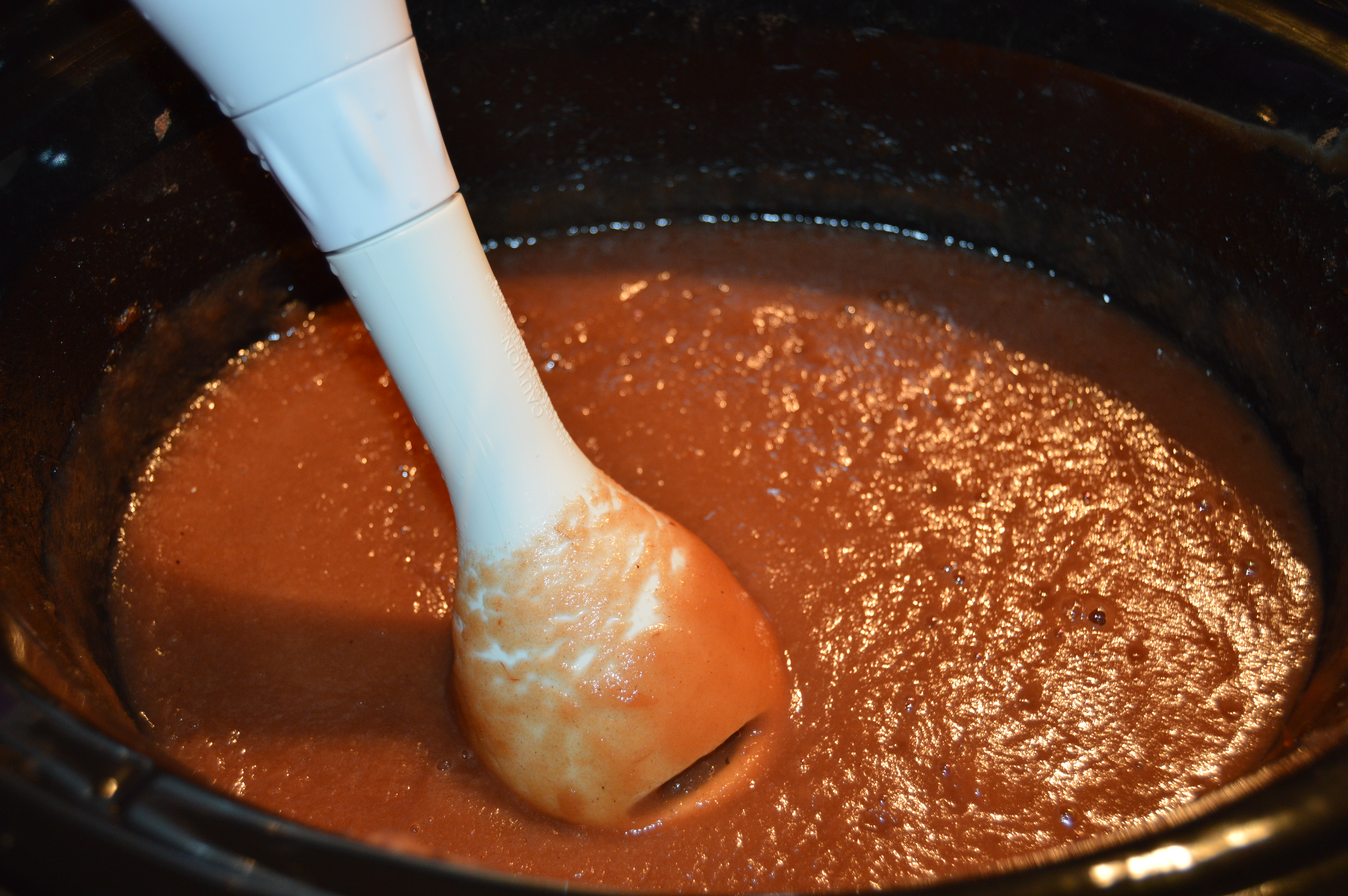 After allowing the moisture to cook-out, I took the immersion blender and turned a spicy applesauce into apple butter.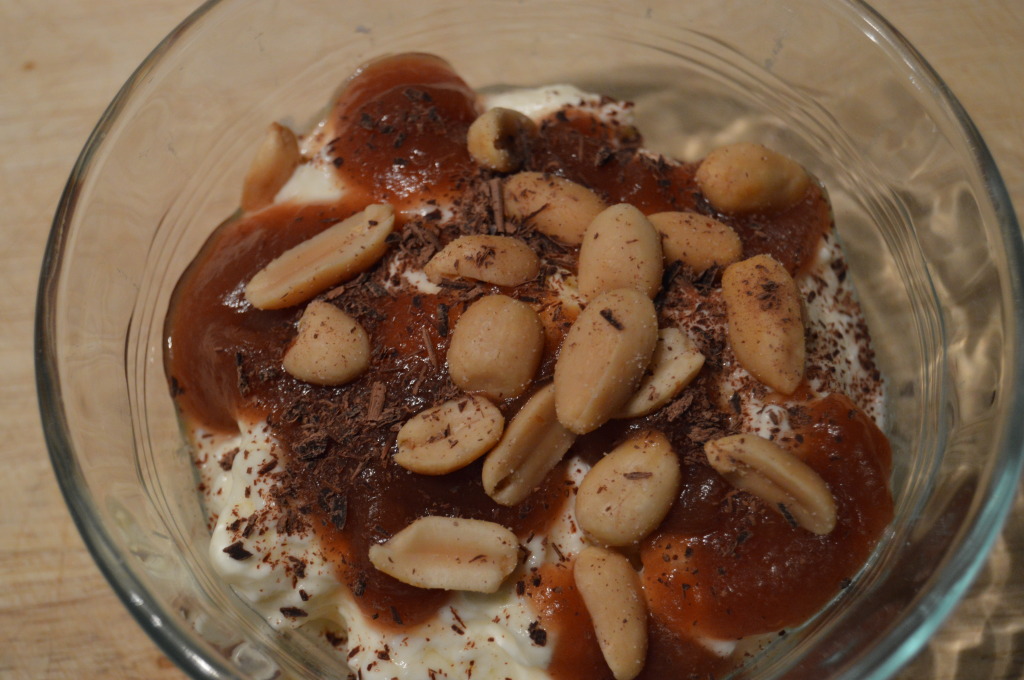 This is my homemade greek yogurt topped with apple butter, dark chocolate, and peanuts.  Trust me, this stuff won't last in my freezer very long.
Easy Crock Pot Apple Butter
Excerpted mostly word for word from: http://www.deniseinbloom.com/crockpot-apple-butter-recipe/
Ingredients
Apples, peeled, cored, and cut into large sections. (enough to fill your Crockpot to the top). I used 6 pounds or 12  Cortland apples
1 1/2 cups granulated sugar. I used just one cup
1 1/2 cups packed brown sugar. I used just one cup
1 tbsp cinnamon
1/2 tsp ground nutmeg
1/4 tsp ground cloves. Nope, none handy, so I switched with all spice
1/4 tsp salt
1 tbsp vanilla
2 tsp lemon juice. I used the lemon juice in the beginning to keep the apples from turning, so I did not add more.
Directions
Fill crock-pot with prepared apples.
In separate bowl combine and stir, 1 cup of granulated sugar, 1 cup of brown sugar, cinnamon, nutmeg, cloves, and salt. (reserve the rest of the sugar for later)
Pour sugar and spice mixture over apples.
Turn crock-pot onto low and cook apples for 10 hours. After first 1-2 hours gently stir in the sugar mixture to coat the apples.
Leave it and forget it now.  At this point I let mine cook overnight
After 10 hours take lid off and stir. Your mixture will be very dark and cooked down by about half the capacity of your crock-pot.
Stir in lemon juice, and vanilla.
At this point taste your apple butter for sweetness. I had tart firm apples and they needed more sugar, so I then added the additional 1/2 cup of granulated and 1/2 cup of packed brown sugar. You can adjust accordingly to your taste and the apples you are using.
Let apple butter continue to cook for 1-2 hours with lid off to absorb more liquid and make apple butter thicken more.
At the end of the cooking time, smooth apple butter with an emulsion blender.
Spoon into clean pint jars, and cover tightly with jar lid and ring. Be sure to leave room at the top of the jar if freezing.